By Joyce Hansen, MLIS

Salutations. It took just four measly minutes to yank down the Xmas lights from the front porch last week, yet I experienced a rush of accomplishment that got me thinking.

A
s I roll to the end of my time here, t
his is the small corner I have come to sometimes occupy—a person who prizes polishing off tiny, non-school tasks. Because there is hardly any time for laundry, QFC or scrambling eggs, these little bursts of short-term satisfaction allow me to slog through papers, tedious readings, the cat throwing up, the car breaking down, etc. For that I am mighty grateful.

Anyway, I've come across some nice stuff so put aside that research paper.

Here are a few whatsis suggestions…
MUSIC
The Gothic Archies / THE TRAGIC TREASURY: Songs from A Series of Unfortunate Events. 2006. Nonesuch Records. www.nonesuch.com/thegothicarchies. Shake up your music cache with this compilation of witty, miserable songs, most of which originally showed up within the audio versions of the Lemony Snicket books. Lemony Snicket not only writes wondrous strange children's books, he plays the accordion. Along with Snicket, The Gothic Archies are singer/songwriter Stephin Merritt and John Woo on electric sitar. The songs are short in length and lyrics included. Sing along! The music is jaunty, and, sometimes vaguely reminiscent of 80s pop songs with their angst-filled chords and gloomy singers (hello, Morrissey). The chorus from the song Scream and Run Away:
When you see Count Olaf, count to zero;
Then scream and run away
Scream, scream, scream and run away
Run, run, run, run, run, run, run
or die, die, die, die, die, die, die, die,
Run, run, run, run, run, run, run, run,
or die, die, die, die, die, die, die, die, die, die, die
Hee-larry-us!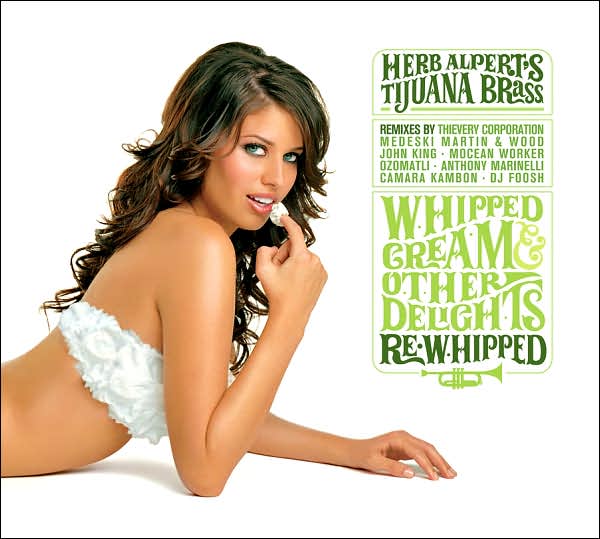 Herb Alpert's Tijuana Brass whipped Cream & Other Delights Re-Whipped. 2006. Shout! Factory. www.shoutfactory.com. Listen to this remixed classic and even scrubbing out the red-sauce encrusted oven is pure mirth! The cover says it all: Once upon a time, there was a badass with a horn, a babe in whipped cream and a bunch of songs that became American classics. Now, 40 years later, Herb Alpert is back with new solos mixed in alongside even newer grooves by some of the most innovative artists around. Rewhipped indeed.
BOOKS
The Polysyllabic Spree by Nick Hornby. 2006. Believer Books. It's possible you and Hornby are in the same boat. This is the predicament: "a hilarious and true account of one man's struggle with the monthly tide of the books he's bought and the books he's been meaning to read" (from the book jacket). The comic writer keeps a monthly journal for 14 months that includes lists of books he's purchased and books he's actually read for each month.
From the book: "Books are, let's face it, better than everything else. If we played cultural Fantasy Boxing League, and made books go fifteen rounds in the ring against the best that any other art form had to offer, then books would win pretty much every time. Go on, try it. The Magic flute v. Middlemarch? Middlemarch in six. The Last Supper vs. Crime and Punishment? Fyodor on points. See?"
Because I've only finished half of it(!), I can't say if it's all-the-way-through noteworthy, but there's remarkable consistency in this and his other books, and because of that I'm going to go ahead and say, pick it up: it's smart and entertaining.

Arboretum by David Byrne. 2006. McSweeney's Books. www.davidbyrne.com. www.mcsweeneys.net. How do we perceive information? What associations with that info does our ever-churning brain create? Byrne's compiled an intriguing book of his tree diagram drawings which he describes as "faux science, automatic writing, self-analysis, satire and maybe even a serious attempt at finding connections where none were thought to exist." Byrne, legendary former lead singer and co-founder of the music group Talking Heads, has spent much of his life exploring stories, and
started

Alternate Universes, 2002
these drawings as instructions to himself: "draw an evolutionary tree on pleasure," mental maps of imaginary territory. Paragraphs explain some of the drawings. Byrne cites Lawrence Weschler and his book, Everything That Rises: A Book of convergences as some of what makes him consider connections beyond the obvious. Byrne: "(Weschler) asks if the similarities in the branching structures of neurons, trees and genealogies mean that we have a predisposition towards making things fit these structures." What stories do we tell ourselves? No commitment to reading straight through—open it and step in anywhere.
That's all, folks!

Joyce Hansen is the editor of the Silverfish and a 2nd year. She really didn't mean to leave the Xmas lights up so long. Really. Her cat, Debbie, fights crime.